Big Night Out
May 25, 2019
Raft, bike, and explore the night.  Free tacos & a beer!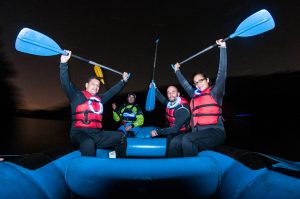 Suddenly typical nightlife seems so boring. Your BIG NIGHT OUT will begin with an 8 mile journey down the majestic, scenic Lehigh River. Enjoy views of 18th century dams, locks and dwellings along the way. At the mid-way point of your rafting trip, you'll stop to enjoy a free riverside taco dinner. This will fuel you up for the second half of your rafting adventure and the biking portion of your evening!
Following your Pocono Whitewater Rafting trip, we will provide you with a Trek mountain bike to cruise 8 miles of trail as the sun begins to set.  As your trip ends, darkness will set in and the glow of your bike lights will lead the way! Don't worry, our trained guides will be with you each step of the way. After your trip, we will bring you back to our Pocono Whitewater Adventure Center where a roaring bonfire and cold beer will be waiting to welcome you home after your BIG NIGHT OUT!
2019 Big Night Out Rates
Individual – $104.99 (ages 13 and up)
RATE INCLUDES
Sunset whitewater rafting trip
Riverside taco dinner
A Free Beer
Evening rail-trail bike ride along the beautiful Lehigh River
Professional guides
All necessary whitewater rafting equipment
Life jacket
Full or half wetsuit if needed
Trek bicycle rental
Bike helmet
Free parking
Shuttle service to/from the river and trail
2019 Big Night Out Dates
May 25th
June 15th
July 6th, 19th and 27th
August 10th
September 1st and 14th
October 12th
Private Big Night Out dates are available to groups of 10 or more people, mid-week. Just give us a call at 1-800-WHITEWATER (1-800-944-8392) to arrange your private trip.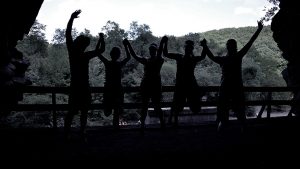 Looking for a day time adventure?  Try our Big Day Out adventure.
Book Now