Whitewater Dam Release
August 11, 2018
Experience the best whitewater rafting in the Tri-State area.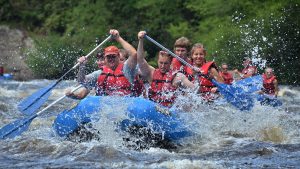 Come whitewater raft the Lehigh River when the water levels are at their highest.  Water released from the Francis E. Walter Dam raises water levels and brings whitewater rafting to a whole new level.  You'll find yourself navigating Class II & Class III rapids through the beautiful, scenic Lehigh Gorge.
Never rafted before?  No problem!  All of our whitewater raft trips are guided from beginning to end.  Safe for children ages 8 and up.  This is a fun, thrilling, and memorable whitewater rafting adventure for the whole family!
2018 Dam Release Rates
RATES INCLUDE
All necessary whitewater rafting equipment
Life jacket
Free parking
Post trip bonfire
Change rooms
Shuttle service to/from the river
Professional river guides
ONE DAY PADDLES & BATTLES TODAY!
Whitewater Raft for $69.99 and play Castle Nights at Skirmish Paintball in the evening for FREE!  Limited to ages 10 and up.  Includes FREE Entry and castle to castle night time play.  To make reservations or if you have an questions, call 1-800-Whitewater (570-325-8430).
2018 Dam Release Dates
April
Daily, natural flow whitewater releases
May
Daily, natural flow whitewater releases
Plus, an extra boost from the dam on the 12th, 19th, 26th & 27th
June
Natural flow from the 1st thru 8th
Plus, an extra boost from the dam on the 9th, 10th, 23rd & 24th
July
7th & 8th, 21st & 22nd, 28th & 29th
August
4th & 5th, 11th & 12th, 18th & 19th, 25th & 26th
September
October
Daily, natural flow whitewater releases
Plus a MEGA Dam Release on the 6th & 7th
If these dates do not fit your schedule or you are looking for something a little less adventurous, our Family Style Whitewater Rafting Trip is an alternate option.
Book Now