The Lehigh Explorer – Raft & Bike
September 12, 2021
A raft and bike multisport adventure!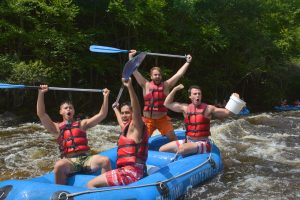 Are you looking for a multi sport adventure that doesn't require getting up so early? Try our NEW trip, The Lehigh Explorer!  You can arrive at noon and have plenty of time to explore the Lehigh River by raft and bike.  This is a 16 mile adventure.  You will begin your day with eight miles of Class I & II whitewater rafting on the Lehigh River.  After enjoying a few hours on the river, you'll  switch gears and pedal eight miles on the Lehigh Gap section of the D&L Rail Trail.  Along the way, you'll pass remnants of 18th century locks and canals as you enter in the town of Jim Thorpe.  You will finish the day back at our adventure center where a bonfire will welcome you as the newest Lehigh Explorer!
2021 LEHIGH EXPLORER DATES
June
July
August
September
Private Lehigh Explorer adventures are available to groups of 10 or more people, mid-week. Just give us a call at 1-800-WHITEWATER (1-800-944-8392) to arrange your private trip.
2021 LEHIGH EXPLORER RATES
Individual – $94.99 (ages 13 and up)
LEHIGH EXPLORER RATE INCLUDES
Class I, II, and touch of class III whitewater rafting trip
All necessary whitewater rafting equipment
Trek bike rental
Bicycle helmet
Free, all you can eat barbecue lunch (hot dogs, potato salad, chips, fruit, water, lemonade)
Change rooms
Free parking
Trip shuttles
Professional guides
Post-trip bonfire
TRIP NOTES
Check in at Pocono Whitewater Rafting, Jim Thorpe.
Most of our rafts accommodate 4 to 6 people.
Vegetarian meal options are available, please give us a call for details.
If you forget something you can pick it up in our retail shop.
Your photo is taken on the river and available for purchase in our store or online at PoconoWhitewaterPhotos.com.
If you would prefer to participate in just one activity, we also offer biking and whitewater rafting trips.  For biking only adventures, visit our Pocono Biking trail options page.  For whitewater rafting trips only, please visit PoconoWhitewater.com
Book Now