Mega Dam Release Weekend
October 07, 2023
Peak Fall Foliage & A Mega Dam Release Rafting Trip!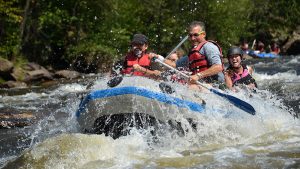 Visit Jim Thorpe in the Pocono Mountains and experience the vibrant autumn hues, high water, and a day of Dam Release Whitewater Rafting.  The foliage will be peaking and The Francis E. Walter Dam will be releasing more than three times the amount of water than normal.
All of our whitewater raft trips are guided from beginning to end.  Children ages 8 and up are welcome.  This is a fun, thrilling, and memorable whitewater rafting adventure for the whole family!
2023 Whitewater Dam Release Dates
April
Daily, natural flow whitewater releases
May
Daily, natural flow whitewater releases
Plus, an extra boost from the dam on the 13th, 20th, 27th & 28th
June
Natural flow from the 1st thru 4th,
Plus, an extra boost on the 10th & 11th, 24th & 25th
July
8th & 9th, 22nd & 23rd, 29th & 30th
August
5th & 6th, 12th & 13th, 19th & 20th, 26th & 27th
September
October
Daily, natural flow whitewater releases
Plus a MEGA Dam Release on the 7th & 8th
If these dates do not fit your schedule or you are looking for something a little less adventurous, our Family Style Whitewater Rafting Trip is an alternate option.
2023 Whitewater Dam Release Rates
Individual – $79.99 (ages 8 & up)
One person will raft for FREE when you bring a group 10 rafters, two raft for FREE when you bring 20 rafters, and so on.  For details, check out all of our FREE Whitewater Rafting Group Leader Benefits!
Whitewater Rafting Rates Include
All necessary whitewater rafting equipment
Life jacket
5 gallon bucket with lid to store your lunch
Free parking
Post-trip bonfire
Change rooms
Shuttle service to/from the river
Professional river guides
RAFTING TRIP NOTES
Most of our rafts accommodate 4 to 7 people.  If you have less than 4 people in your group, there is a possibility you will be teamed up with other whitewater rafting guests.
You will stop for lunch mid-way.  Lunch is not provided, however, sub lunches can be purchased from our Broken Paddle Bar and Grill upon your arrival.
If you forget something you can pick it up in our whitewater rafting retail shop.
Your photo is taken on the river and available for purchase in our store at the end of your day or online at PoconoWhitewaterPhotos.com.
On dam release trips we require that each raft have at least one English speaking adult able to translate safety briefings and directions to others in the raft.
Wear shoes that will not fall off your feet. Bare feet, flip flops, slides, or slippers are NOT permitted.
Water guns are NOT permitted on the Dam Release Whitewater section of the Lehigh River. If you are looking for a milder trip with swimming, splashing, and water gun battles, we recommend our Family Style Whitewater OR Pocono Pirate Rafting trips.
The Lehigh River is a free flowing wild river with changing water and weather conditions. You should be healthy and capable of getting back in the raft should you fall out.  If you have excessive weight for your height or have a disability which would hinder or prevent you from getting back into the raft, we do not recommend this trip for you. Guests that are participating in our Dam Release Whitewater Rafting Adventure must be comfortable walking for 20 minutes.
Book Now