Big Day Out
July 25, 2021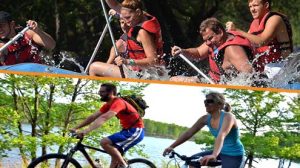 If you're seeking a BIG multisport adventure –  Rafting, Biking and Hiking – then our BIG DAY OUT is definitely for you. 
You will being your day with a classic breakfast to charge you up.  Then, you will be fitted for one of our Trek bicycle rentals and start your 23-mile bike ride on the D&L Rail Trail.  When your ride is finished, you'll enjoy your sub lunch along the banks of the Lehigh River in Jim Thorpe.
After lunch your BIG DAY OUT continues with a scenic hike to an abandoned railroad tunnel and a beautiful overlook of the Lehigh River in the Pocono Mountains of Jim Thorpe. You will descend back to the Lehigh River where whitewater rafts and equipment will be ready for your arrival.
Whitewater rafting will be the last leg of your adventure! The Lehigh rolls and bends as you go whitewater rafting and navigate rapids past the ruins of 18th century dams, locks and dwellings. Our professional rafting guides will accompany you every step of the way as you explore the Poconos.
A delicious dinner and roaring bonfire at our Pocono Whitewater Adventure Center await your return. Your first victory drink (beer or soda) will be on us! Finally, your day is complete and you can hang out around the bonfire and brag that you survived Pocono Whitewater's BIG DAY OUT!
2021 Big Day Out Dates
April
May
June
July
August
September
October
Private Big Day Out adventures are available to groups of 10 or more people, mid-week. Just give us a call at 1-800-WHITEWATER (1-800-944-8392) to arrange your private trip.
2021 Big Day Out Rates
Individual – $114.99 (ages 13 & up)
BIG DAY OUT RATE INCLUDES
Trek rental bike and helmet
Guided hike to overlooks of the Lehigh River Gorge
Class I, II and touch of Class III whitewater rafting trip
All necessary rafting equipment, life jacket, full wet suit and splash jacket if needed
Change rooms
Free parking
Trip shuttles
Professional guides
Breakfast (egg sandwich, tater tots, beverage),
Lunch (sub, Chex mix, cookies, water)
Dinner (stuffed shells, salad, garlic bread, mixed veggies, beer/beverage)
One FREE beer
Post-trip bonfire
TRIP NOTES
Check in at Pocono Whitewater Rafting, Jim Thorpe.
Most of our rafts accommodate 4 to 6 people.
Vegetarian and gluten free meal options are available, please give us a call for details.
If you forget something you can pick it up in our whitewater retail shop.
Your photo is taken on the river and available for purchase in our store or online at PoconoWhitewaterPhotos.com.
Book Now