Free Pass for Everyone!
April 06, 2018
Spring is here!  Let it rain…free Skirmish Paintball passes!
The natural water levels on the Lehigh River are generally at their highest in the Spring.  Join us for a day of whitewater rafting any day in April or May and you'll receive a Free Pass to come back and play Skirmish paintball (a $36.00 value)!
2018 Whitewater Rafting Rates
Individual – $69.99 (ages 8 & up)
Student Special - $37.99 with valid school I.D.  April 2nd through the 8th.
Group (10+) – Check out all of our FREE Whitewater Rafting Group Leader Benefits!
Organized Youth Group –  $37.99*  *Please visit our youth group page for youth program details, pricing and available dates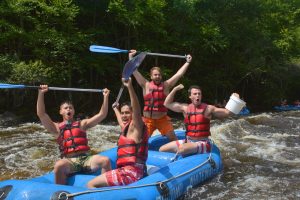 Whitewater Rafting includes:
All necessary whitewater rafting equipment
Life jacket
Free parking
Post trip bonfire
Change rooms
Shuttle service to/from the river
Professional river guides
Free Pass to play Skirmish paintball (a $36.00 value)
For additional whitewater rafting information click here.